#TalkClimateNow
The MAGIC-DML team joined thousands of researchers and scientific organizations to talk climate now.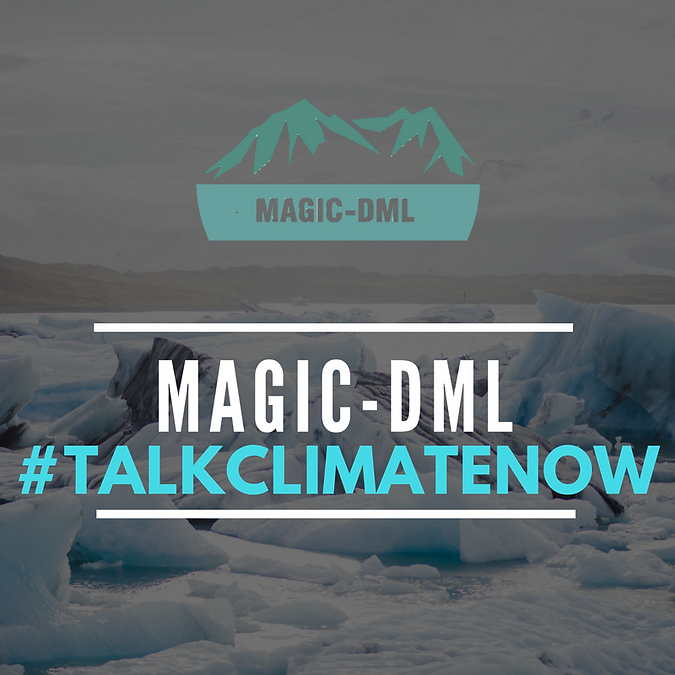 In November of 2017, the American Geophysical Union (AGU), the American Association for the Advancement of Science (AAAS), and the American Psychological Association (APA) teamed up to promote discussions on climate change. The MAGIC-DML team joined them in their cause.
Why talk climate change?
Science is abundantly clear that we humans are having important impacts on our climate. Recent natural disasters have motivated scientists who study our Earth to encourage others to learn more about how the climate is changing, and how it will impact your life and the lives of everyone on Earth.  The #TalkClimateNow initiative aims to not only start conversations about climate change but also, and most importantly, promote conversations around what we can do to prepare for, and even avoid it.
Want to get in on the action?
Just get talking... it's what the initiative is all about. The MAGIC-DML team are all committed to having informal conversations with friends and family to raise awareness of climate change. Whether you are a climate science expert or know nothing about climate science and want to learn more, ask your questions and start the conversation. 
The AGU hosts tons of great resources on its webpage. Also, see NASA's informational page on climate science. And of course, don't forget to stay up-to-date with our team's research and findings!