Experience in Karthaus as a student
10-02-2018
Category: General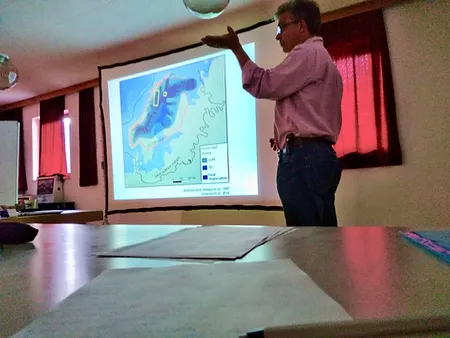 The Karthaus course was absolutely amazing in many different ways. Every morning we would get on the bus to the nearby village, Katharinaberg, where we had our lectures (this was an exception since the traditional lecture hall in Karthaus was under construction). From continuum mechanics and ice sheet modelling to radar sensing and ice/firn core analyses, the morning lectures managed to cover both modelling and observational glaciological work, giving students a solid basis on all different aspects of glaciology.
During the afternoon, we would work on exercises about the content covered in the lectures and on a small group project that was purposedly about something quite different from your research field. This was meant to be so in order to give us a broader view and skillset than what we would already have from the specific field we do our PhD's in.
On one of the days, we went on an excursion to the Ötztal Alps, in a region where summer skiing is a reality. There, we visited first the Grawand glacier. For some students, this was their first time ever on the ice! Not only was the glacier exciting, but we also hiked to the "Im Hinteren Eis" peak, at 3260 meters above sea level! The altitude proved to be the greatest challenge during the hike, demanding several stops for us to catch our breath... From there, we had a wonderful sight of the Hochjoch-Ferner glacier right over the border in Austria. Just a 5-minute hike further along the mountain led us to University of Innsbruck's research hut, where they had a weather station and some instruments to monitor the glacier conditions.
On top of everything, the amazing infrastructure provided made the experience even more unique. Amazing food, amazing venue, amazing people. The horizontal environment between students and lecturers made things flow quite easy and, after 10 days living together for almost 24 hours, many bonds were created, new good friendships that will sure strengthen the glaciological community.
However, I could not finish this post without bringing attention to the fact that the gender ratio of lecturers did not show the same care taken regarding the ratio of students. Whereas we were 19 men and 16 women as students, we had a single female lecturer. Not only me, but other students also found it hard to believe that, among brilliant senior scientists such as the ones we had the pleasure to meet and learn from, there are no other women who could be just as fantastic and contribute as much to this amazing summer school. Let's see if someday this could change for the better as it is happening in other areas...
Finally, to everyone who I had the pleasure to share these 11 days with, Grazie/Danke/Thank you!